Behind a Heart Language stands pride, origin, tradition and identity.
My work stands for holism and individualsim, empathy and experience.  Looking for what works FOR YOU AS A FAMILY is an essential part of my work, as every family and its members are different and have different needs.
Together with You I would like to find out first what your Heart Language is, second how and which family language works for you and last but not least we will create some twists that lead to a better understanding among each other.
The name "Sprachstolz" stands for "being proud of your language", what is the base for successful growing up with more then one language & culture.
Behind a (child's) mother/heart language is pride, origin, traditions, identity and culture. We use our language to pass this on to the next generation.
Usually a family has a strong bond – but sometimes, and especially for multicultural families that bond can falter by living in a foreign country with its daily routines and challenges. In this cases it can be helpful to seek external help to clarify tangled up situations.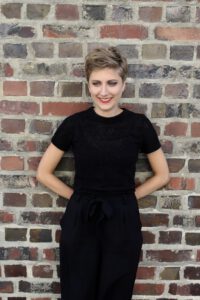 Who I am
As a Speech Therapist and Educational Guidance I lived and worked in several countries such as Brasil, Italy, The Netherlands and Germany over the last couple of years. This path and a deep passion for different cultures influenced my work with children and families. I work in a holistic way, as my philosophy is that for any difficulty or problem there is more than one root case; there is more than one perspective on a problem.
Together with you and your family I'd like to find the right path for a better understanding among each other, an individual and relaxed way to raise your children multilingual  and therefore a more peaceful living together.
Contact me if you witness feelings & behaviors like exhaustion, anger, tantrums and struggles in the (multilingual) speech and language development.
"Du kannst nicht nicht kommunizieren"
"You can't not communicate"
Paul Watzlawick
Ausbildung zur staatlich anerkannten Logopädin an der MAH Hamburg
Mehrjährige Tätigkeit in Praxen in Wasserburg und München speziell Kindertherapie
Auslandserfahrung mit multikulturellen- und lingualen Familien, Beratung in der mehrsprachigen Erziehung, deutsche Sprachförderung
Auslandsaufenthalte und Arbeit in Kindergärten: Kapstadt und Sao Paulo
Fortbildungen: Diagnostik und Therapie bei Spracherwerbsstörungen B. Zollinger; Prävention, Diagnostik und Therapie Auditive Verarbeitungs- und Wahrnehmungsstörung und Lese- Rechtschreibstörung; Diagnose und Therapie von Sprachentwicklungsstörungen im Kindergartenalter  Dr. Wildegger-Lack, Diagnsotik und Therapie mit mehrsprachigen Kindern
Erziehungsberaterin
Let's Start a Conversation